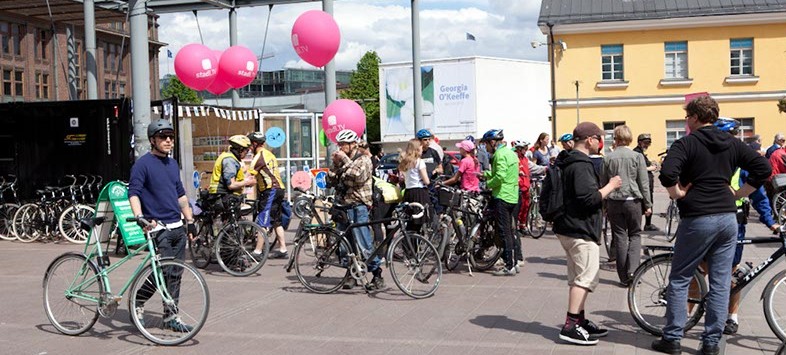 Where are bicycle paths built? How are cycling conditions planned in Helsinki and is it possible to affect the process? Everything you need to know about bicycle traffic in Helsinki will be available for you at the City Planning Department's exhibition space Laituri from April 14th onwards.
The exhibition allows you to find out more about new cycle routes, and a simulator will allow you try them out in a matter of minutes. It also offers various bicycle traffic games, so come and test your knowledge of traffic rules or what kind of a cyclist you are. You can also comment on your dream cycling city on Twitter using the hashtag #pyoraliikenne, or offer the planners more data by answering a simple poll on how often you use your bike. Upcoming events include a bicycle traffic workshop for children, a bicycle traffic trade fair, both organised during the national cycling week in May. All events of the Laituri service are open to everyone and free of charge.
The visual look and contents of the exhibition have been planned and realized in close cooperation with the Design for Everyday Mobility (LAD) project. The appearance and elements of the exhibition are designed by Metropolia's student Sofia Frantsi (Degree Programme in Design, specialization in Interior Architecture), and also the production, the bike simulator and the mobile games are carried out by students and alumni of Metropolia (see credits here).
The exhibition was opened on the Cycling Festival Europe Day on the 14th of April by the Deputy Mayor City of Helsinki Mrs Anni Sinnemäki and by Ambassador of Kingdom of the Netherlands Mr Cees Bansema.
VENUE:
Information and exhibition centre Laituri (Narinkka 2, Kamppi)
Tel. +358 9 310 37390
laituri(a)hel.fi
Open:
Mon-Fri 10-19
Sat 12-16